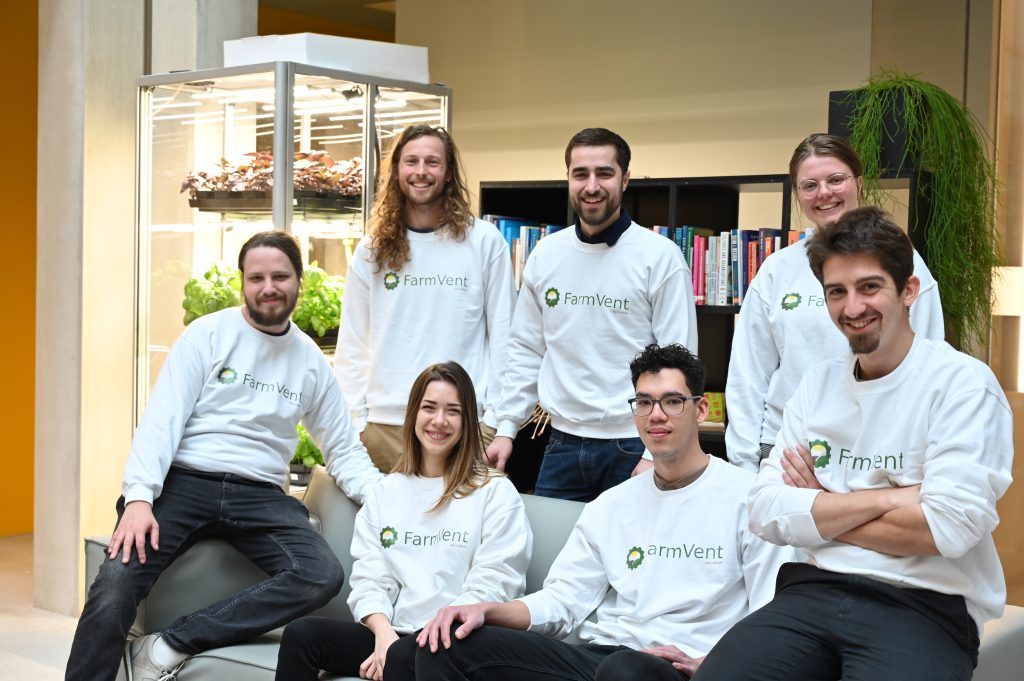 Company Presentation
Farmvent, a Dutch pioneering leader in the field of small-scale indoor vertical farming, is revolutionizing food production with its groundbreaking automated micro-farm solution for the food service and restaurant industry, providing a sustainable and accessible source of fresh produce right at chefs' fingertips.
By combining cutting-edge advanced automation, artificial intelligence, and advanced plant science knowledge, Farmvent is transforming the way herbs and leafy greens are produced by bringing production directly to where the food is consumed.
In an area of one to two square meters and a height of two meters, Farmvent's self-contained indoor vertical farm produces high yields of fresh produce on a weekly basis. This is achieved through the interconnected cloud-based vertical farms managed by Farmvent software, utilizing Internet of Things (IoT) and advanced automation, along with energy-efficient LED lamps to cultivate more food with less effort.
The startup, born at Wageningen University, has already established vertical farms in the Netherlands and Belgium, in innovation centers, restaurants, and corporate canteens such as Unilever Global Innovation Centre (HIVE), Microsoft Innovation Centre, ING (Global HQ), Compass Group, and more.
With the hydroponic farming process, Farmvent's farms consume 90% less water and reduce the need for fertilizers and pesticides by an impressive 75%. This eco-conscious approach generates less waste compared to traditional farming, and as the vertical farms are integrated as in-store food production solutions, they reduce the carbon footprint by a significant 90% and food miles.
In a world grappling with the challenges of a growing population and increasing threats to global food security due to pests, diseases, rising temperatures, and climate change, Farmvent's concept contributes to the Sustainable Development Goals (SDGs) aimed at ensuring sustainable consumption and production.
Controlled environment agriculture, neatly arranged on shelves within vertical farms, offers a multi-level, space-efficient planting solution, particularly advantageous in urban areas. It not only boosts yields and reduces labor costs but also enhances the profit margins of agro-businesses while addressing global food challenges with minimal environmental impact.
FarmVent is leading the charge toward a more sustainable and efficient future of food production, promising to change the way we think about farming and food security.
Farmvent
Bronland 10
Plus Ultra II, Wageningen University Campus
6708 WH Wageningen
+31 64 704 84 04
e: alfieris@farmvent.com
farmvent.com


---
Η FarmVent, πρωτοπόρος νεοφυής επιχείρηση και ηγέτιδα στο χώρο της καθ´ύψος καλλιέργειας, επαναστατεί στην παραγωγή τροφίμων με την καινοτόμα αυτόματη λύση της τις μικροφάρμες, που παρέχουν μια βιώσιμη και προσιτή πηγή φρέσκων προϊόντων ακριβώς στα χέρια των σεφ.
Συνδυάζοντας προηγμένη αυτοματοποίηση, τεχνητή νοημοσύνη και προηγμένες γνώσεις στην επιστήμη των φυτών, η Farmvent μεταμορφώνει τον τρόπο παραγωγής βοτάνων και φύλλων πράσινων, φέρνοντας την παραγωγή ακριβώς εκεί όπου καταναλώνεται το φαγητό.
Σε έναν χώρο ενός ή δύο τετραγωνικών μέτρων και ύψος δύο μέτρων,οι κατακόρυφες φάρμες της Farmvent παράγουν υψηλές ποσότητες φρέσκων προϊόντων εβδομαδιαία. Αυτό επιτυγχάνεται μέσω της διασυνδεδεμένης καλλιεργειών σε κλειστό χώρο που διαχειρίζεται το λογισμικό της Farmvent, χρησιμοποιώντας την δύναμη του Διαδικτύου των Πραγμάτων (ΙοΤ), της Μηχανικής Μάθησης (ML), της Επιστήμης των Δεδομένων και ενεργειακώς αποδοτικούς λαμπτήρες LED για μεγαλύτερη παραγωγή με λιγότερο κόπο.
Η εταιρεία, που ιδρύθηκε στο πανεπιστήμιο του Wageningen, έχει ήδη τοποθετήσει φάρμες στην Ολλανδία και το Βέλγιο, σε κέντρα καινοτομίας, εστιατόρια και επιχειρηματικές καντίνες, όπως σε εταιρείες όπως Unilever Global Innovation Centre (HIVE), το Microsoft Innovation Centre, η τραπεζα ING (Παγκόσμια Έδρα), η Compass Group και πολλοί άλλοι.
Με τη διαδικασία της υδροπονίας, οι φάρμες της Farmvent καταναλώνουν 90% λιγότερο νερό και μειώνουν την ανάγκη για λίπασμα και φυτοφάρμακα κατά εντυπωσιακό 75%. Αυτή η οικολογικά συνειδητή προσέγγιση παράγει λιγότερα απόβλητα σε σύγκριση με την παραδοσιακή γεωργία και επειδή οι καλλιέργειες σε κλειστό χώρο ενσωματώνονται ως λύσεις παραγωγής τροφίμων στα καταστήματα, μειώνουν τον ανθρακούχο αποτύπο κατά σημαντικά 90% και την απόσταση διανομής.
Σε έναν κόσμο που αντιμετωπίζει τις προκλήσεις μιας αυξανόμενης πληθυσμιακής ανάπτυξης και αυξανόμενων απειλών για την παγκόσμια τροφική ασφάλεια λόγω εντόμων, ασθενειών, αυξανόμενων θερμοκρασιών και κλιματικής αλλαγής, το σύστημα της Farmvent συμβάλλει στους Στόχους Βιώσιμης Ανάπτυξης (SDGs) με στόχο τη διασφάλιση βιώσιμης κατανάλωσης και παραγωγής.
Η γεωργία σε ελεγχόμενο περιβάλλον, που τοποθετείται με τάξη σε ράφια εντός των καλλιεργειών σε κλειστό χώρο, παρέχει μια πολυεπίπεδη και αποδοτική λύση φύτευσης, ιδιαιτέρως χρήσιμη σε αστικές περιοχές. Αυτή η πρακτική δεν αυξάνει μόνο την παραγωγή και μειώνει το κόστος εργασίας, αλλά ενισχύει επίσης τα κέρδη των αγροεπιχειρήσεων, ενώ αντιμετωπίζει τις παγκόσμιες προκλήσεις στον τομέα των τροφίμων με ελάχιστες επιπτώσεις στο περιβάλλον.
Η FarmVent ηγείται της προσπάθειας για ένα περισσότερο βιώσιμο και αποδοτικό μέλλον σε θέματα παραγωγής τροφίμων, καθώς υπόσχεται να αλλάξει τον τρόπο που σκεφτόμαστε σε ό,τι αφορά αγροτική παραγωγή και επισιτιστική ασφάλεια.